The DAX is waiting for a direction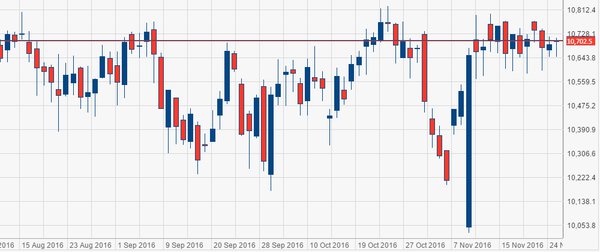 The German index experienced in the last two weeks a reduction of the volatility, with the prices moving between 10,600 and 10,800 points. After Trump's election (and a shocking start the day later), the DAX found a new equilibrium between those two figures.  

From a technical point of view the index is locked in this tight lateral trading range, which will probably not least for long, also because in couple of days there will be a risky referendum in Italy and the re run of the Austrian Presidential Election.
We could have a first positive signal with the break out of the resistance area of 10,800 (followed by the next resistance, placed at 10,830 on the maximum reached in October). Vice versa we could have a bearish signal if the DAX will break the support area of 10,590-10,600. It looks very likely that in this area the market will find many buyers, while a breakdown of this support could activate many stop loss.