Gold price falls below $ 1,200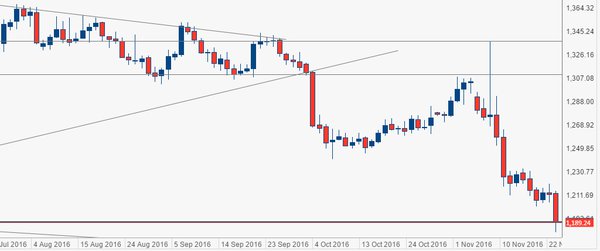 The yellow metal was expected to represent the safe haven in the market's storm, which should have followed Donald's Trump Election. The reality was much different and the gold just reached on Wednesday afternoon a new 10-month low, falling below  $ 1,200.
In other words the gold cancelled the gain achieved from February.  The gold is suffering the growing expectations for a rate hike in December and the strength of the US Dollar, but also the news coming from India (regarding the possibility of the limitation of gold importation).
The area 1,180-1,190 which already stopped bearish movements in the first part of 2016, represent now an important test. The challenge for the precious metal is to trying to stop the selling rush of the past month, recovering the optimism demonstrated in the first part of the year, when the gold was one of the best assets on the market, achieving a performance close to +25% in the first 6 months of the 2016.