Oil Price is waiting for Opec Meeting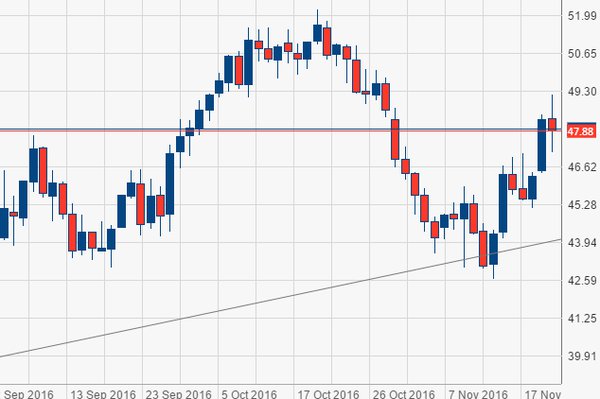 The markets are following with attention the situation surrounding the upcoming Opec Meeting, which will be held in Wien on the 30th November. The producers are expected to cut their productions, following the pre-agreement reached last month in Alger. The growing conviction that a deal to limit the production could be confirmed pushed up oil price, which surged 4% to a three-week high on Monday.
Brent futures jumped to $ 49 on Monday, continuing to gain in the first hours of Tuesday to a maximum of 49.96, while WTI, the US benchmark, rose to 49.2. The optimism regarding a world oil freeze pact, slowed down on Tuesday afternoon. Consequently to this, oil prices, decreased, with the Brent futures that returned to $ 49, while the US West Texas Intermediate (WTI) fell below $ 48.
The next few days will be crucial to understanding if the oil price could maintain the gain achieved in this 10% rally, started after Saudi Arabia, one of the leader Opec country, started a diplomatic offensive work to persuade more reluctant producers nations to freeze accept the proposed cuts.
Goldman Sachs analysts said in a note that chances of an Opec cut succeeding have increased, and they believe the global oil surplus will shift into a deficit by the middle of next year, which would support prices.
"Our base case now is that an Opec production cut will be announced and implemented" is written in a note published by Goldman Sachs, which predict that global oil surplus will shift into a deficit by the middle of next year, supporting prices. But many other analyst and investors are still skeptic about this agreement (or better: this hypothetical agreement), considered as "not enough" to support the price in the long term period.