Gold close to $ 1,200 punished by Dollar's rally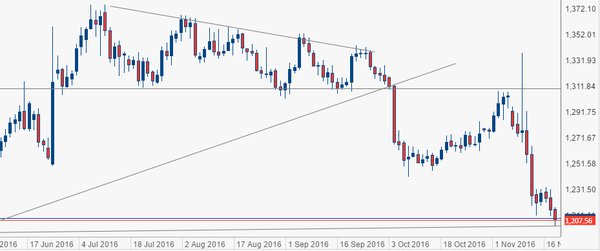 The gold price plunged after the US Election and reached a new five-month low at $ 1.202, suffering the dollar's strength and the mounting expectation for higher US interest rates.  In her last speech Janet Yellen, Federal Reserve Chair, said, that the US Central Bank is close to hike the rates as the economy continues to recovery.
This expectation, with the US interest hike seen as a near certainty, are pushing the greenback, with the Dollar index that surged to its highest level in 14 years above 100.
From a technical point of view the yellow metal is now close to a crucial support area at $ 1,190-1,200.
The situation is even worst for the silver, which fell on Friday by another 0.9%, reaching $16.5 an ounce. The correction is now close to 20% from the peak registered in August, one of the common definition of a bear market.